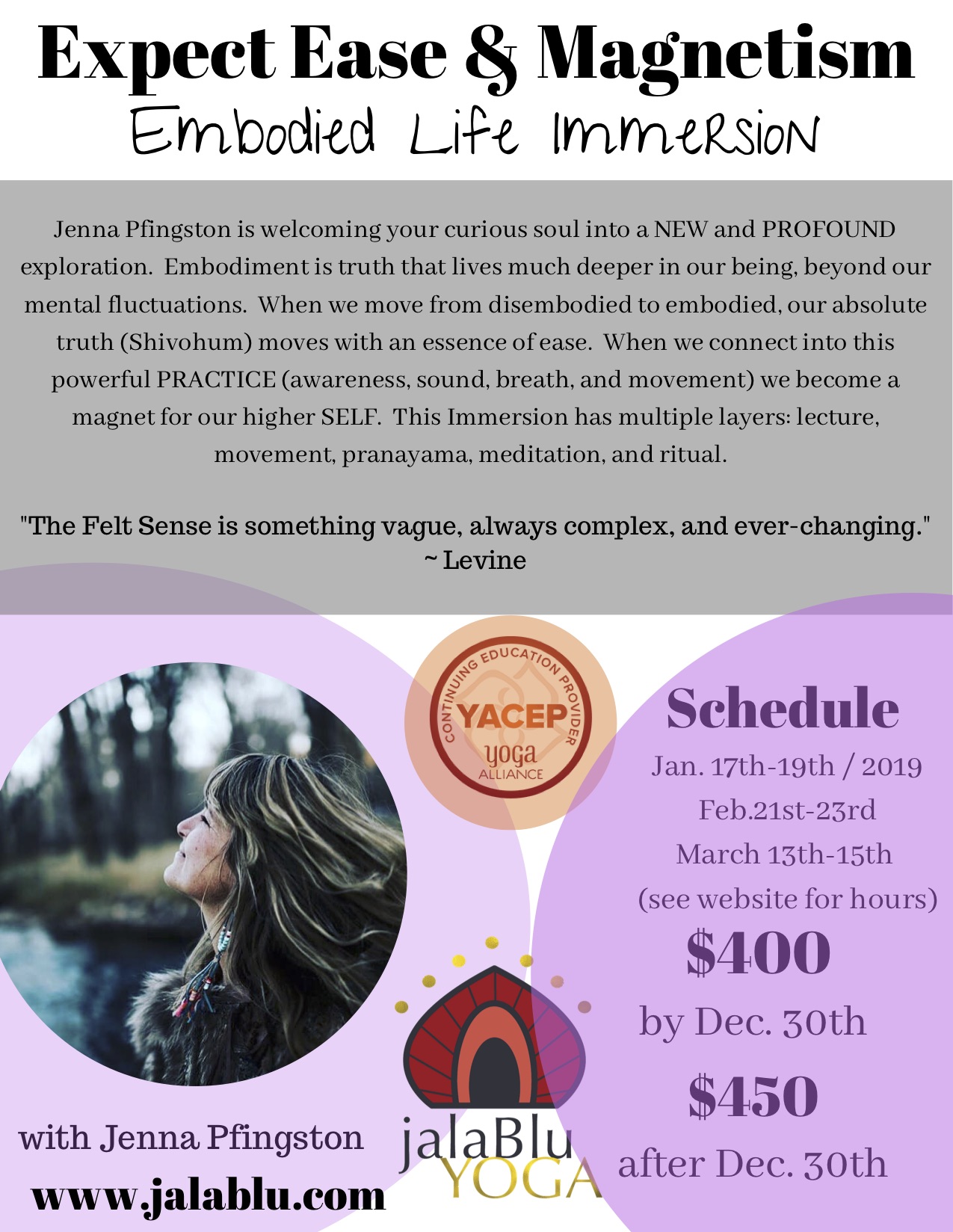 Jenna Pfingston is welcoming your curious soul into a NEW and PROFOUND exploration. Embodiment is truth that lives much deeper in our being, beyond our mental fluctuations. When we move from disembodied to embodied, our absolute truth (Shivohum) moves with an essence of ease. When we connect into this powerful PRACTICE (awareness, sound, breath, and movement) we become a magnet for our higher SELF. This Immersion has multiple layers: lecture, movement, pranayama, meditation, and ritual.
"The Felt Sense is something vague, always complex, and ever-changing." ~ Levine
Jenna Pfingston will be the lead teacher and has a 500-ERYT and YACEP certification with Yoga Alliance. This particular Immersion is influenced with Jenna's most recent studies with the Embodied Arts School. Jenna will receive a highly recognized certification to work with souls one on one as she invites them into Embodied Life. Jenna has been practicing yoga for 20 years and has devoted most of her life to ongoing studies including; asana, pranayama, meditation, other forms of movement (dance), voice / sound (mantra), psychology roots of yoga, chakras, and so much more on the path. This particular Immersion embraces any soul ready to go deeper on the path of life and of the SELF. This Immersions would also be a profound way for yoga teachers OR any teacher to expand their offerings to their community.
What will this training gift you beyond ABSOLUTE TRUTH?!
Clarity
Intuition
Ease
Magnetism
Pleasure
Truth
Freedom
Confidence
Courage
Self Worth
Forgiveness
$400 by December 30th 2018 / $450 after December 30th
January 17th-19th / February 21st-23rd / March 13th-15th /
Friday Eve 6-8:00pm / Saturday 1:30pm-4:30pm / Sunday 11:00pm-1:30pm